As the only female in a house with four dudes, I've learned to accept that men and women approach situations… differently (as in, nerf weaponry versus communication).
That's not to imply that my three sons are carbon copies. On the contrary, their personalities are as different as their appearances. Just as unique are the ways in which the practice of yoga has benefited each of them, probably without them even knowing it.
My oldest child possesses many of the attributes you'd expect from a typical first born. He's a natural leader, converses easily with adults, and achieves high marks in school. He's also prone to anxiety and requires often lengthy explanations of our daily schedule and social events before declaring himself "comfortable" enough to proceed.
For a kid like Jack, yoga is excellent at reducing anxiety and enhancing breath awareness. Jack has suffered from migraine headaches since he was three years old. For those of you who haven't experienced a migraine before — they are completely debilitating and just plain horrible. Watching my child endure them 1 to 2 times a month for the past 7 years has been awful.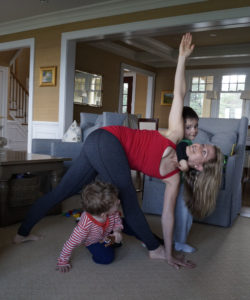 Fortunately, with a little guidance Jack is able to rid himself of a migraine headache more quickly when he incorporates yogic breath work. In fact, there have been occasions when a headache has dissipated after just 30 minutes of breathing exercises; usually he requires hours to recover. Not to be misleading, Jack also takes Children's Motrin and sometimes sips a Coke (caffeine is a treatment for migraines), but doing just those two things never seems to yield as quick of a cure as when we incorporate breath work.
Jack's little brother Ryan benefits from yoga in a different way. Ryan and his twin, Bennett, were born 10.5 weeks premature. Ryan suffered more trauma at birth than his twin in that he ingested blood for two full days before my emergency c-section. Aside from a small speech impediment that is improving with therapy, Ryan doesn't exhibit any obvious delays. However, a recent Occupational Therapy evaluation showed that Ry's gross motor skills could use a bit of work — in particular his core strength and balance.
I'm sure you can see where I'm going with this! Yoga is a phenomenal practice for building core strength and improving balance. Even though many of the poses are challenging for Ryan, he loves the fact that his kids yoga teacher uses animals to describe the postures. His favorite? "Shark pose!" (a.k.a., locust)
Ryan's twin brother, Bennett, excels in fine and gross motor skills but his patience could use some "fine tuning." Bennett is inquisitive, thoughtful and creative. He's also considerably smaller than Ryan; our little Peanut. But don't be fooled by Bennett's compact stature (or those angelic brown eyes) — the kid can throw down. And he does.
(We're working on it.)
Fortunately for Ryan (Bennett's primary target) weekly kids yoga classes have helped Bennett learn to control his temper. The kid submits to savasana better than any 5-year-old I've ever seen! Outside of class, he'll now sometimes count to 10 and slow down his breathing as opposed to immediately hurling a Lego at one of his brothers. So that's good.
What I've learned by witnessing my three boys, as well as through my own practice, is that yoga can mean different things to different people on different days. Since I took my first class 16 years ago, the practice has evolved for me. Back then I longed to sweat and perfect challenging poses. I was there to get a work out in.
Today? Let's just say that whole counting to 10 thing comes in handy when nerf bullets go whizzing past my head.